Monday, April 25, 2011
At
DSAG
We thought long and hard about coming up with a challenge that would be fun and also provide people with a variety of different directions in which they could take the challenge. We hope you have fun with this and can't wait to see how the challenge inspires you!

Challenge Theme:
All About Me (yes, you have to scrap a page about yourself!)
Subject of Layout:
Scrap about something you inherited from a family member (it can be a physical attribute ex: smile, nose, funny laugh, a personality quirk ex: sense of humor, fearlessness, a talent ex: sewing, great athlete, a certain passion ex: love for animals, love of gardening, etc.) You are
NOT
limited to these examples; if you can figure out something....anything....that you inherited from another family member and you can scrap about it....GO FOR IT!!
Rules/Requirements:
1. The layout must have two photos (it can have more). The two required photos must be one photo of yourself and a second photo that illustrates the "thing" that you inherited. For example, if you inherited your mother's cooking ability one photo must be of yourself and the second photo could either be a photo of your mom cooking, or a photo of a great meal, or even a photo of a favorite recipe or cookbook. As long as the second photo helps to illustrate the "thing" that you inherited it works.
2. The layout must have a title that uses one of the following:
-a mix of different fonts (at least 2) or
-a mix of different alphas (at least 2) or
-a mix of fonts and alphas (at least 1 font and 1 alpha)
3. The layout must including journaling explaining what the inheritance is
4. Your layouts must be posted in NDISB's
ADSR 6
gallery.
Posted by

Sara
at 9:48 PM
No comments:

Friday, April 8, 2011
Here's my Challenge 3 LO:
Credits:
"Take A Dip" by Digi-Designs by Nicole
Journaling:
As a family we enjoy sitting down to play
a version of "Go Fish." Zsolt doesn't fully understand
the rules of the game, but he loves using the fishing
pole to catch the fish and put them in the boats.
Anara enjoys sucking on the little cardboard fishies.
Mom and Dad try to establish order, but the game
generally ends with lots of giggles as the fish
are thrown wildy into the air.
Posted by

Sara
at 10:13 PM
No comments:

My Challenge 2 LO:
Journaling:
amazing. beautiful. creative. delightful. ethereal. friendly. giggly. heartfelt. inspirational. jovial. kindly. lovely. marvelous. noble. outstanding, plucky. quirky. righteous. scholarly. trustworthy. upright. vivacious. whimsical. my Xerox. yummy. zany.
all these things and more, you inspire me every day.
Credits:
Shabby Princess, Vintage Florals
Posted by

Sara
at 10:12 PM
No comments:

Oh my word! I am such a nit-wit. I completely spaced posting my LOs here.
Silly me!
I didn't even realize it till Blogger told me that this was the most recent blog updated.
Oh yeah, Sara! We have a blog!
Silly me.
Wait, did I already say that?
I already can't remember.
Nit. wit.
Here is my Challenge 1 LO:
Credits:
Travel through time by the Latest Scoop Too
Posted by

Sara
at 10:09 PM
No comments:

I promise Sara is doing her LOs she just must not feel like posting them. ;)
challenge 3 is a family activity then essentially to make the LO into that activity.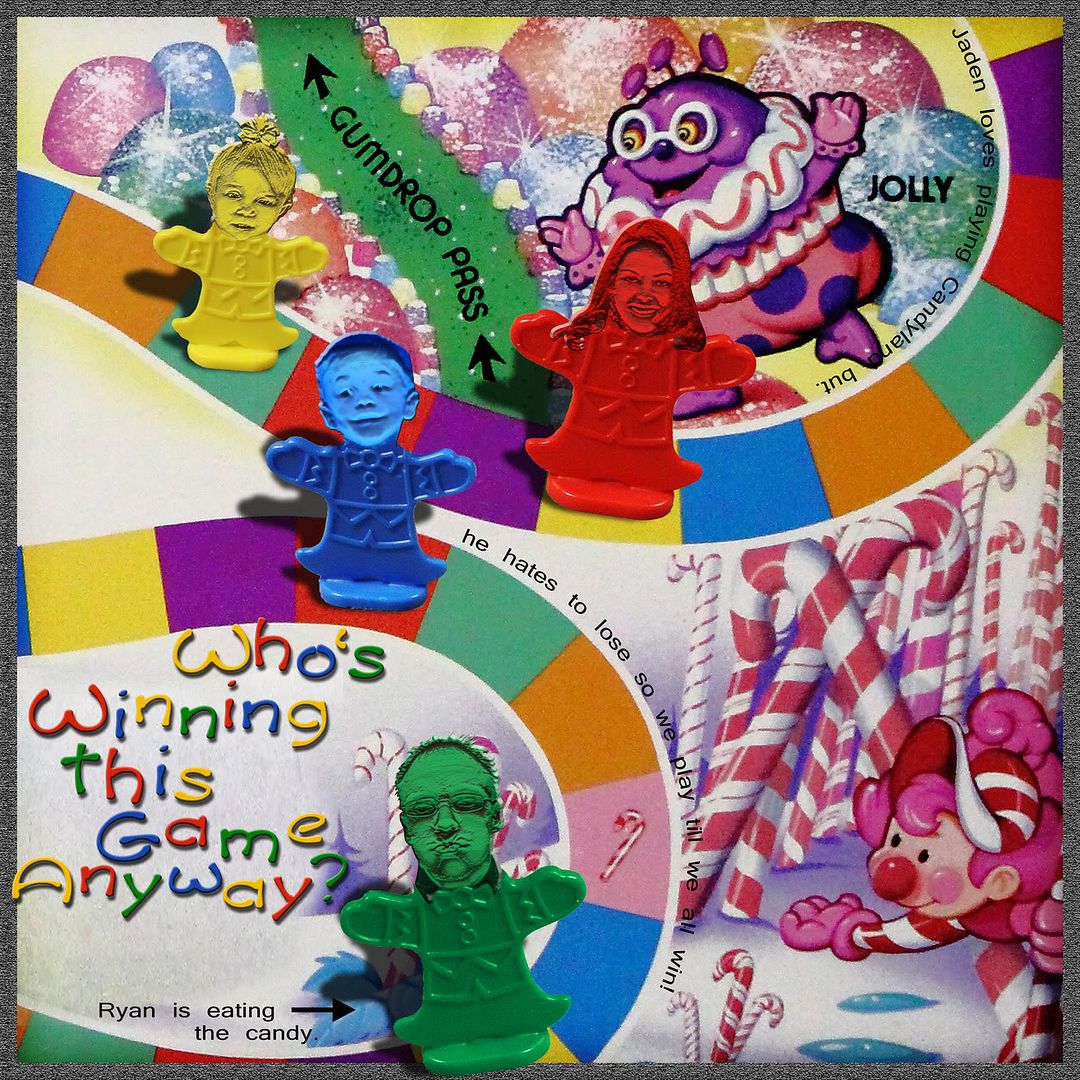 actual Candy Land game by Milton Bradly
Playful Plastic Alpha by Harmonystar
Journaling:
Jaden loves playing Candy Land but he hates to lose so we play till we all win!
Challenge 4 was an intersection meaning we have to do it together. The theme was family travel- Sara provided the pictures and journaling and made the LO.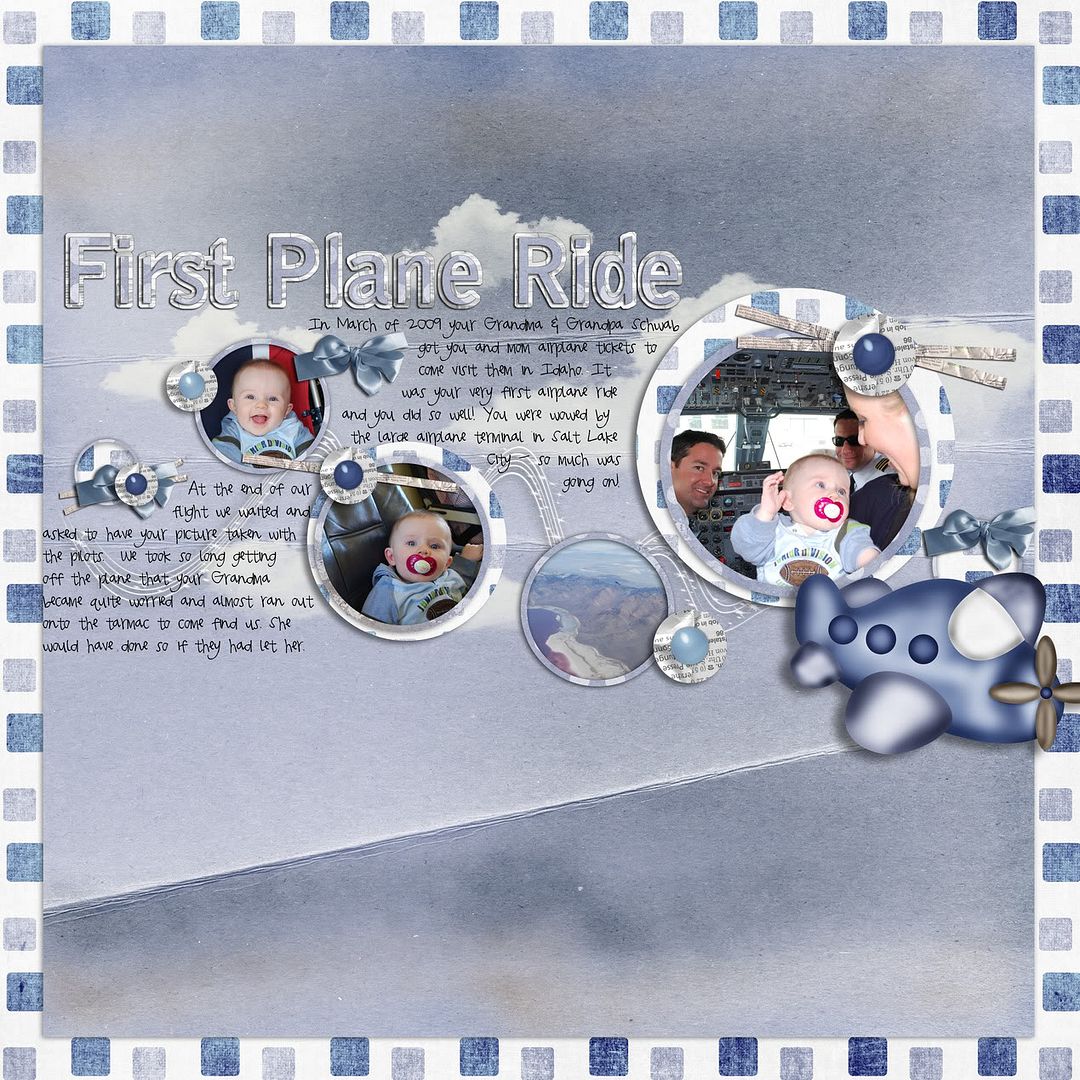 pictures and journaling by Sara - scrapping by Rachel
credits:
template- Down the Line by Photocowgirl
Waste Paper by Samceline

journaling:
In March of 2009 your Grandma & Grandpa Schwab got you and mom airplane tickets to come visit them in Idaho. It was your very first airplane ride and you did so well! You were wowed by the large airplane terminal in Salt Lake City - so much was going on! At the end of our flight we waited and asked to have your picture taken with the pilots. We took so long getting off the plane that your Grandma became quite worried and almost ran out onto the tarmac to come find us. She would have done so if they had let her.
Posted by

Little Yancey Family
at 2:21 PM
1 comment: